Don't worry about spelling Yotlungerdal, just go see it at North Hollywood's Gallery 800.
We always say the NoHo Arts District is only as great as it's people. Meet Wes Gunn. He's an artist that's done some pretty amazing things. He has been a lead scenic artist and a sculptor on several large theme park projects, including the Wizarding World of Harry Potter at Universal Studios Orlando; Transformers: The Ride 3D, Despicable Me: Minion Mayhem, and Fast and Furious: Supercharged at Universal Studios Hollywood. He has also worked on many commercials, short films, web series, and fine art projects as a scenic artist and sculptor. Wes is a member of the Art Directors Guild and will show his short film "Yotlungerdal" at Gallery 800 along with miniature sets, puppets, costumes and concept art.
WHAT: "Yotlungerdal" – the event is free.
WHEN: Wednesday, August 26 Doors open at 7PM, and screenings will be at 8PM and 9:30PM. The film is 25 minutes long.
WHERE: Gallery 800 in the Lankershim Arts Center 5108 Lankershim Blvd, North Hollywood, California 91601
INFO: The event is free – Yotlungerdal website
1. What is the film about?
A. The film begins in a little village, nestled in a forest, where the young Nightwatchman is beginning his job for the first time. In the middle of the night, he falls asleep, and a mysterious creature, the Yotlunger, creeps into the village and steals a baby. The Nightwatchman must form a search party and go after the Yotlunger, lest the child never be heard from again.
1. How'd you come up with the idea?
A. The idea for "Yotlungerdal" was born when I was a college student in the early 2000s. It was a very simple idea: a short, black and white, silent film, in the vein of German Expressionist classics, but, perhaps also with an air of comedy. The main story was roughly the same: a creature steals and baby, the townspeople go after it, and mayhem ensues. I thought it would be my first film, and I would use the talents of actors and theatres I knew in Florida. But then I wound up focusing all my efforts into my Fine Art degree and kind of forgot all about it.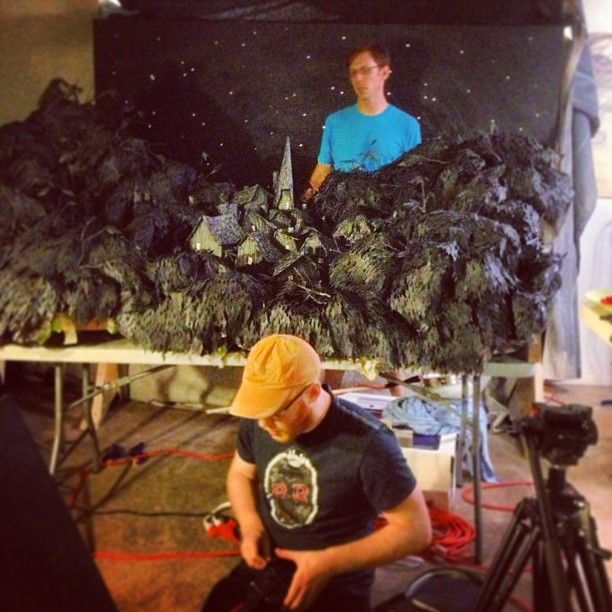 2. What made you decide to do the film?
A. In the first few months of moving out to Los Angeles, my friend, Marielou Mandl, suggested I team up with John Ruff to make a movie. "If you've got an idea, we can film it!" she said. So a few weeks later, I was putzing around my apartment when I suddenly remembered my idea for this short film (which, at the time, did not have a title). "Of course!" I thought.
Half a year later, I wrote the script. The following summer, I drew the storyboards, and that fall (of 2012) I asked my grandma, Beverly Hope, if we could shoot the film on her property. She agreed in the best way possible: by cooking dinner for our cast and crew (sometimes up to 14 people) every weekend that we were filming (and she also let me build sets in her barn!). She has since sold her property, but we chose her place, because it was in the midst of a huge and hilly avocado grove. It was also made special, because her house and hills are where my first impressions of California were made as a very young boy.
3. Tell us more about the artwork?
A. I built and painted all of the sets, most of the props, and a few of the costume pieces. The works that will be on display at Gallery 800 this Wednesday include concept sketches of the characters, a hand painted back drop, two of the miniature sets used in the film, the puppets that populated those sets, and a monster costume that also doubled, in the film, as a life-size marionette. I made all these pieces in my apartment in North Hollywood. Two additional costumes will be on display; they were created by Jessica Basista, Renata Popenhagen, and Leilani Yosick, and include the horns I created for the character, the Yotlunger.
Jessica, Renata, and Leilani, assembled and created the vast majority of the costumes you see on film. They, and our makeup artists Tessa Philbrick and Russel Stepan, helped out so much with many extra details I had difficulty keeping track of: building and painting last minute props, sticking around and helping out far longer than I'm sure they anticipated. Many of the actors also helped behind the scenes, including Sam Randazzo, who played a village person and also created some animated special effects for the film. And, of course, the film owes much of its luster to John Ruff's technical expertise in lighting and cinematography. Many thanks go to everyone who came out weekend after weekend to see this project through to the end.
Yotlungerdal website: yotlungerdal.com
Yotlungerdal on Facebook: facebook.com/yotlungerdal
Yotlungerdal at Gallery 800 Facebook Event Page: bitly.com/yotfb
**** For information on Los Angeles theatre, tickets to theatre in North Hollywood's NoHo Arts District, theatre reviews, the NoHo Event Calendar, restaurants, news and local businesses in NoHo, or anything and everything about the NoHo Arts Community, bookmark nohoartsdistrict.com. Follow us on Twitter @OfficialNoHo.