You choose the short film competition winner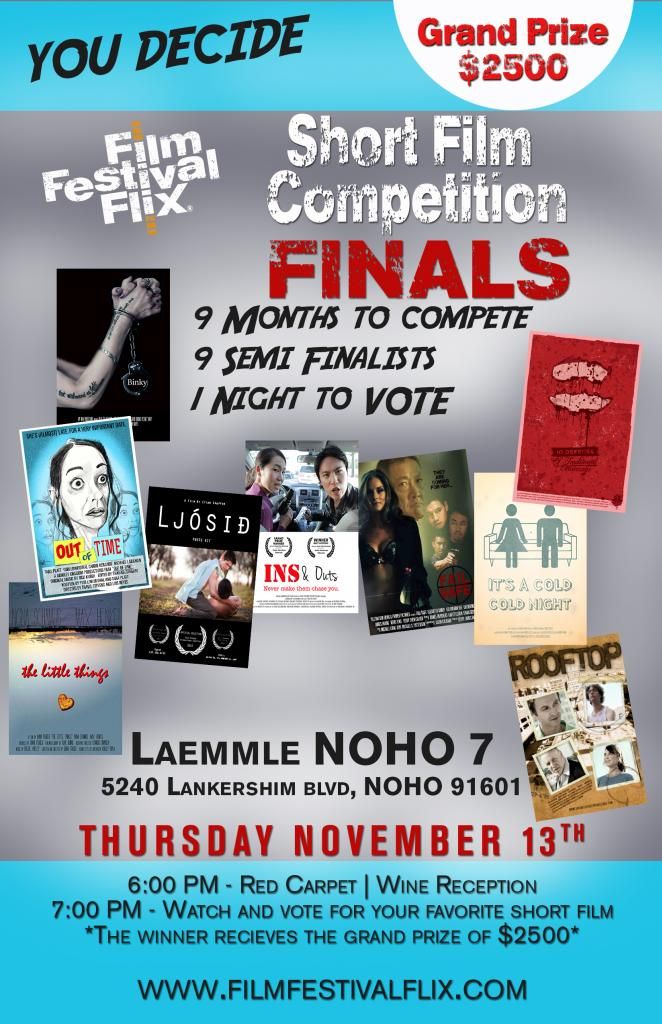 Film Festival Flix offers NoHo film goers VIP tickets to critically acclaimed films and audience favorites from top film festivals around the world; and enables attendees to interact with filmmakers and actors in the comfort of a North Hollywood theater and via simulcast.
But did you know that Film Festival Flix also celebrates the short film art form and the filmmakers that make them? They host a monthly, online short film competition and, each year, in November, the nine monthly finalist films will compete for the $2,500 cash Grand Prize. So save the date, Thursday, November 13, to watch the finalists' films, hear from the filmmakers, vote to award the grand-prize winner, and enjoy an evening of film in the NoHo Arts District.
WHAT: Film Festival Flix Short Film Competition
WHEN: Thursday, November 13
SCHEDULE OF EVENTS:
6:00pm Red Carpet Photos and Pre-Event Hosted Wine and Beer – Michael Roud Photography Studio (11223 Magnolia Blvd.)
7:30pm Film Premiere – "2014 Short Film Competition Finals" at NoHo Laemmle 7 Theaters (5240 Lankershim Blvd.)
9:30pm Voting
9:45pm Reception at Eclectic Wine Bar and Grill (5156 Lankershim Blvd.)
THE WINNING FILMS
January – Binky
When a troubled woman is questioned by a seemingly detached interrogator they both discover a profound connection that is beyond their wildest dreams.
February – Out of Time
When a scientist creates a time travel device, she suddenly must use it to flee a current crisis only to find herself adventuring from time to time to solve her problem in the present.
March – In Defense of Traditional Marriage
As Sam and Alex prepare to get married in the heated climate of modern middle-America, their friends gather to show them support, even if their family is uncomfortably absent. Each friend takes the time to give an interview for the happy couple's wedding video, until the ceremony begins. As Sam starts walking down the aisle, the viewing audience will start to realize something is not quite what it seems. As the ensemble cast finally gets to see their friends joined together forever, none of them realize the true horror that awaits them.
April – It's a Cold Cold Night
A heartbroken romantic has a bizarre encounter with a drunk stranger.
May – Ins and Outs
INS & Outs follows Agents Jackson and Washington on their rounds as they root out illegal immigrants hiding in the nooks and crannies of our cities. A routine call of suspicious behavior turns into more than they bargained for and our heroes have to make some tough decisions about how to dispense justice.
June – Rooftop
Johnny Sanchez, a greasy, scumbag, prince of crime, is picking off rival dealers. Determined to find out how, Lionel Hamlin perches on a rooftop to spy on him. Lionel, however, is unprepared for what happens next: a young couple sneaks up to the roof for some ice cream, locking the door behind them. Suddenly stranded on a rooftop with Sanchez getting away, Lionel and the kids have to figure out how to get off the roof without alerting anyone or getting killed.
July Ljósið – The Light
A man desires to overcome the restraint of his fears and embarks on a journey towards discovery through life, love, and self. Ljósið is an extraordinary performance piece of stunning emotion as two dancers explore the boundaries of loss, love, denial and acceptance.
August – Fail/Safe
A beautiful and mysterious woman infiltrates a notorious clan of gangsters to steal a priceless relic. Their fail safe system to retrieve her and the item crumbles as the henchmen turn against one another and abandon their loyalties to the alliance and to the Kingpin.
September – The Little Things
Girl meets Boy, breaks up with Boy, and finds Boy again, but is it a happy-ever-after? "The Little Things" follows Claire and Tom's relationship during and after college, questioning what constitutes a happy ending in contemporary romcoms.
**** For information on Los Angeles theatre, tickets to theatre in North Hollywood's NoHo Arts District, theatre reviews, the NoHo Event Calendar, restaurants, news and local businesses in NoHo, or anything and everything about the NoHo Arts Community, bookmark nohoartsdistrict.com.