The Garland Hotel opens the new Front Yard restaurant
We all like a delectable dish and a yummy cocktail. But they taste even better at Happy Hour and on Sunday for brunch. They taste much better when they are in North Hollywood! The newly renovated Garland Hotel has delish Happy Hour and weekend brunch at their Front Yard restaurant
that gives us a: "…new dining experience with an approachable and shareable menu influenced by L.A. culture and curated by Chef Chris Turano." So stop in for some bites and signature cocktails during their "Social Hour" or before a matinee on Sunday for their brunch. Be sure to give them a big North Hollywood WELCOME!
BRUNCH
You can have brunch on both Saturdays and Sundays! Try their open egg sandwich or other favorites such as The Front Yard's house-made toaster strudel, shrimp and grits and el Cubano for brunch. Check out their brunch menu.
"The Front Yard is an ideal everyday dining destination that spotlights in-season ingredients and quality fresh produce woven with distinctive flavors to create an approachable, yet elevated, menu," said Executive Chef Chris Turano. "Drawing from the techniques and flavors that I have come to appreciate throughout my career, I am excited to transform simple menu items into flavorful, unexpected and seasonally-infused dishes for both guests and locals."
HAPPY HOUR = SOCIAL HOUR
The Front Yard at The Garland in North Hollywood has just launched a new Social Hour offering a menu of bites and standout cocktails, California craft beers and wine at special prices.
Social Hour at The Front Yard | 4-7PM and 10PM-close daily
$7 wines by the glass
$4 beers
$6 cocktails & well drinks
$4-8 bites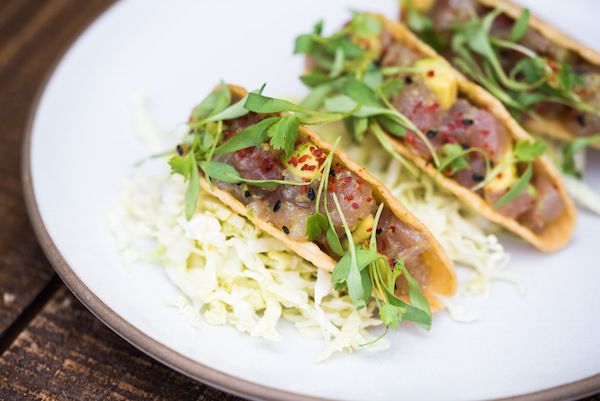 They've got a selection of lighter to fuller-bodied craft beers from across California in addition to impeccably made classic cocktails such as a Bulleit Bourbon or Moscow Mule. Or, go with Lead Bartender Will Cutting's recommendation and order the Bartender's Choice. Among Social Hour bites by Executive Chef Chris Turano: Tuna Tartare Tacos, Smoked Beeler's Pork Quesadilla and Fig and Prosciutto Flatbread.
About Executive Chef Chris Turano
With more than 15 years of experience in the food and beverage and hospitality industries, Executive Chef Chris Turano brings an unmatched passion and enthusiasm for food to the kitchen at North Hollywood's newly revamped property, The Garland. The property's highly anticipated on-property dining experience, The Front Yard, is slated to open early summer and will offer both Angelenos and hotel guests a fresh, approachable menu true to the spirit of Los Angeles.
Prior to his position as Executive Chef at The Garland, Turano was Chef de Cuisine at the renowned Bacara Resort & Spa in Santa Barbara, CA. Turano began his career studying under Food & Wine's Best New Chef of 2001, Ted Cizma, at Elaine Restaurant in Chicago. He then went on to various leading roles in Chicago including Executive Chef at The Chicago Firehouse, Executive Chef at ESTATE Ultra Bar and Executive Chef at Crowne Plaza Chicago Metro Hotel where he ran the culinary program. Past successes include re-opening the Quadrangle Club at the University of Chicago and opening Glen Prairie, one of the top 20 restaurants in 2009 by Chicago Magazine. No stranger to the camera, Turano also competed on and won the Food Network's "Chef Wanted" show in 2013. Turano attended the College of DuPage and also holds a Court of Master Sommeliers Level 1 Certification.
Under the guidance of Executive Chef Chris Turano, The Garland's new, distinctive dining experience, The Front Yard, will offer guests an unparalleled dining environment, highlighting the best of Los Angeles.
For reservations: (818) 255-7290
http://www.thefrontyardla.com/
4222 Vineland Ave. North Hollywood, CA 91602 at The Garland
**** For information on Los Angeles theatre, tickets to theatre in North Hollywood's NoHo Arts District, theatre reviews, the NoHo Event Calendar, restaurants, news and local businesses in NoHo, or anything and everything about the NoHo Arts Community, bookmark nohoartsdistrict.com. Follow us on Twitter @OfficialNoHo.