On Saturday, June 21, if you see folks walking around with more mustaches and beards than usual and more unusual mustaches and beards than usual, you're still in NoHo. The Los Angeles Facial Hair Society will take over The Federal Bar for their second "annual" Beard and Mustache Competition sponsored by Mod Cabin. As you might have guessed, they are beard and mustache aficionados and expert beard and mustache growers. Their mission is to unite the facial hair growers of Greater Los Angeles and California.
"We'll be gathering the best and brightest follicles under one roof, the roof of The Federal Bar, in yet another chance to give each man the opportunity to prove that his face of fur is the best."
Competition Day: Doors Open: 4PM | Competition: 5 – 9PM
DJ: Danny Valeriano will be spinning tunes from 4-11PM
The Competition is at NoHo's The Federal Bar 5303 Lankershim Boulevard North Hollywood, CA 91601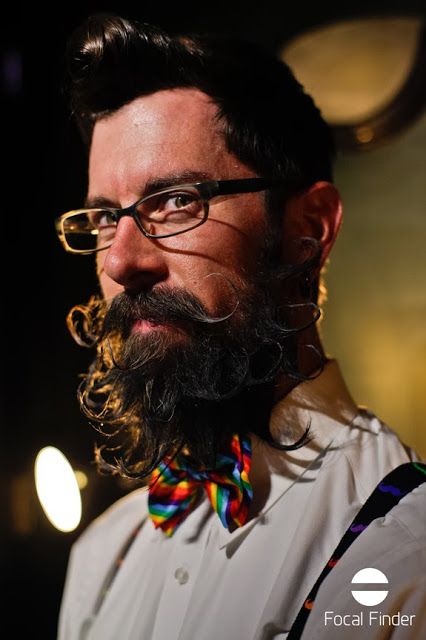 Co-founder of the LAFHS, Michael "Sparky" Sparks answers some questions for NoHo Arts District dot Com readers.
Why did you choose NoHo for your event?
The main reason we chose to hold our event in NoHo is because it's home to The Federal Bar. It's a great neighborhood bar that also has an awesome venue space for live events. It also helps that NoHo is accommodating to our needs. We have quite a few out of towners joining us for this event, so it's nice to have hotels close by and the Metro for transportation.
Why did you start L.A. Facial Hair Society?
LAFHS was founded by myself Michael "Sparky" Sparks, my wife Kim Sparks, Nate "Chops" Johnson and Alana Beck. The purpose of this club is to bring together people who have a common interest in growing facial hair and/or for those who are just fans of facial hair. We're a social group. If you enjoy making new friends, attending fun events and just want to have an overall great time, YOU should join this club!
Is this a competition to go on to a national competition?
This is a regional competition. Anyone is welcome to attend whether you live in L.A. or not. And although it is not a national competition, it works in the same respect that it is a great way to meet new people, make new friends and have an awesome time.
Any suggestions/tips/must dos/must not dos for young folks who want to grow a mustache or beard?
Let it grow! Don't shave or trim for at least three months until you see what you have to work with. Once you have figured out your style of facial hair, whether it be a beard or mustache or both, proper care such a conditioning, trimming and/or styling is recommended.
Mod Cabin is sponsoring the event this year and they're joined by vendors Lumberjacks and Jill, The Fresno Beard & Moustache Club, and The Moustache & Beard Social Club. Judges this year are Ms. Kitten Natividad, Mr. Steve Scarpa, Mr. Daniel Winter, and Mr. Kai Cofer. They will also donate a portion of proceeds to Dawg Squad Rescue, a group that focused on special needs pups and do some amazing work for "hard to place" breeds. 

Here are the many ways you can stay up to date on all the fun stuff the club gets involved in:
Website: http://lafacialhair.org/
Facebook: https://www.facebook.com/LAFHS
Instagram: @lafacialhairsociety #lafhs
Twitter: @LaFacialHair
**** For information on Los Angeles theatre, tickets to theatre in North Hollywood's NoHo Arts District, theatre reviews, the NoHo Event Calendar, restaurants, news and local businesses in NoHo, bookmark nohoartsdistrict.com.