The NoHo Arts District has a new art gallery
The Gallery @ NoHoSAC is a contemporary space that is the perfect backdrop to display the work of today's visual artists. The gallery is located in the NoHo Senior Arts Colony and the space is shared with the award-winning Road Theatre Company. The next show at the Gallery @NoHoSAC will feature the surreal, Caravaggio-esque works of photographer Rod Sokal. His show Stop! Don't Limit Me: exploring corporate healthcare opens on Tuesday, July 29 with a free, public reception from 6 – 8pm.
Rod Sokal is a surrealist photographer whose use of lighting gives his subjects a classic, Caravaggio quality. Rod went to film school and worked in the film industry so he uses this experience to create atmospheric photographs. His use of lightening is bold and soft at the same time. He captures the 'Golden Age of Hollywood' film noir quality with his use of mood lighting. Some of his photographs also have a 'Carivaggio – like ' quality to them. Still others have a 'Darli-esque' quality, due to him manipulating the images in photoshop.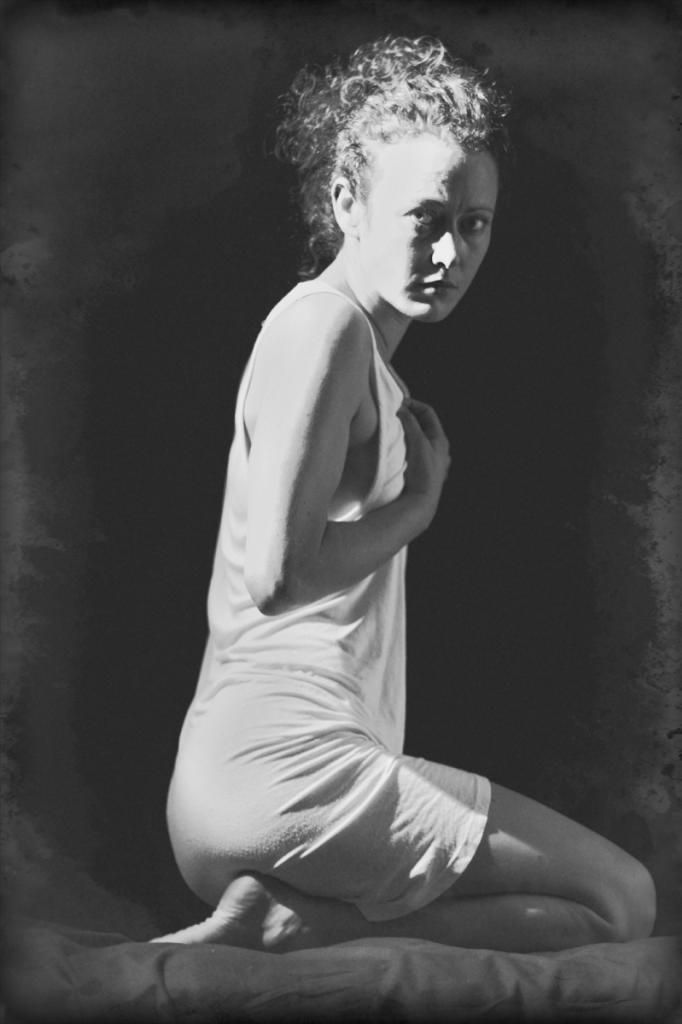 Rod was diagnosed with earlier onset Parkinson's disease a few years ago. His words are eloquent and his images are beautiful. He pulls no punches when he talks about his condition.
"A few years ago, I developed a minor tremor in one hand. After a myriad of tests and years later my exact disorder is still unknown. However, it has progressed and has now earned the label Parkinson's Disease.
I thought this would end me. I thought I'd die unfulfilled and alone.
Hell, I still might..but I choose to fight.
The pain is profound; but it does not limit me.
I can't ignore it, but I can rule it.
I thought my art lost. Then inspired, I chose to create.
Thus through stubbornness, pain, and love I birthed the Pictric Odissi.
Welcome to my journey."
We asked Amanda Talbot, the EngAGE ARTS Programs Manager at the NoHo Senior Arts Colony about how, as the gallery director, she chose to exhibit the work of Rod Sokal.
"I asked Rod for a number of reasons. The first and foremost was the quality of his work as stated earlier, the other reasons were as follows: I want to make people aware that Parkinson's Disease that usually strikes people over 50 affects many young people. Working for the non- profit EngAGE I work with active seniors. If I mention Parkinson's Disease people automatically think I am talking about seniors and that is not the case. At NoHo Senior Arts Colony you have to be 62 years old to live there but the truth is that not all of us will live long enough for whatever reason to be able to live at places like this. NoHoSAC is a vibrant creative community and EngAGE is all about following your dreams and passions no matter how old you are, therefore Rod to me is as much about EngAGE as an older artist in his 90's, as both are making the most of everyday and not letting time prevent them from following their creative passions."
The Gallery @ NoHoSAC is not involved in any sales of artwork and therefore the artist gets 100% profit of any sales. Rod will donate 50% to the Michael J Fox Foundation and with the other 50% is going to start a nonprofit to fight the healthcare injustices.
WHAT: Rod Sokal Exhibit – Stop! Don't Limit Me: exploring corporate
healthcare.
WHERE: The Gallery @ NoHoSAC
NoHo Senior Arts Colony 10747 Magnolia Blvd, CA 91601
WHEN: Opening reception: Tuesday, July 29 from 6-9PM
EXHIBIT RUNS: Open Daily 10am to 5pm. Buzz Leasing Office.
**** For information on Los Angeles theatre, tickets to theatre in North Hollywood's NoHo Arts District, theatre reviews, the NoHo Event Calendar, restaurants, news and local businesses in NoHo, or anything and everything about the NoHo Arts Community, bookmark nohoartsdistrict.com.