Get ready for relevé, battement, arabesque, Demi-plié and more, NoHo!
No, it's not a French lesson, just some of the fun in store for you at the newest business to open in the NoHo Arts District – Pure Barre North Hollywood!
The lithe yet toned physiques of ballerina dancers like Misty Copeland have been a source of fitness inspiration for many years, but never before has a method been able to deliver those inspired results to mere mortals. That is until Pure Barre, a 55-minute isometric barre workout that promises to "lift, tone and burn" and actually delivers – a fact that is shown by this particular brand of barre. The popularity of Pure Barre has grown exponentially within the last 15 years with more than 300 studios in 42 states. The latest addition to this addictive network of fitness boutiques is Pure Barre North Hollywood.
To celebrate the grand opening and give everyone a chance to experience this game-changing workout, classes from Friday, July 31 through Sunday, August 2 will be FREE! Space is limited and filling up fast, so visit http://purebarre.com/ca-northhollywood/ or call (818) 942-7098 for a complimentary introductory class and Pre-Opening membership specials.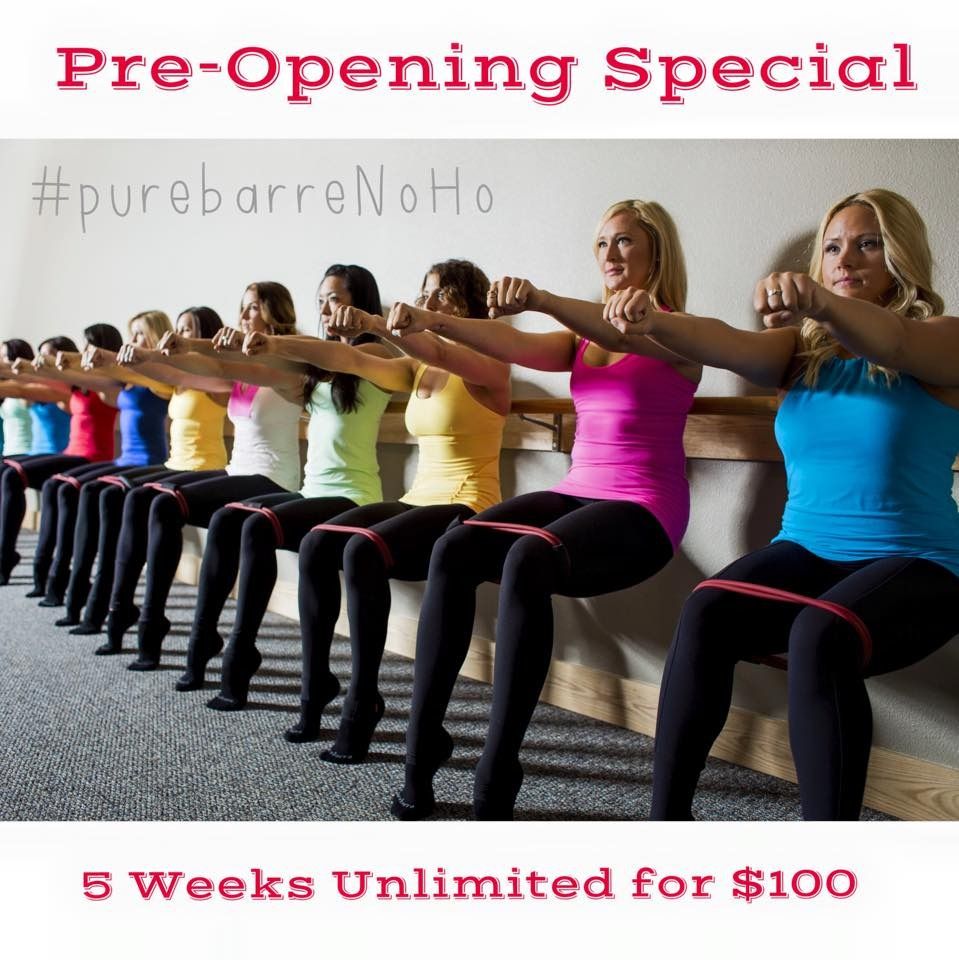 Pure Barre North Hollywood is one of the few fitness facilities that live up to the hype of "instant results," and it is guaranteed that after the first class you will feel your body start to change. The head-to-toe workout will always be different for every person, but everybody in every class will improve their body for the better. The opening of Pure Barre North Hollywood on July 31 will make it possible for Angelenos to achieve the sculpting, toning and blissful burn they crave in a positive, inspiring environment that has celebrities like Zooey Deschanel, Tika Sumpter, Anna Kendrick, and supermodel Erin Heatherton shaking in their socks.
Why is Pure Barre so popular? It has boiled down the essence of balletic movement to a quick, consistently challenging 55 minutes. Don't let the 3lb weights and light resistance bands fool you, a single 55-minute session will have even the fiercest fitness lovers sweating, shaking and burning their way to a stronger body and mind. The efficiency is ideal for fitting serious fitness into busy schedules, and the instant mental boost and fast physical results that Pure Barre delivers is what keeps people coming back. Many Pure Barre lovers say the workout is so intense and the environment so uplifting that they get a meditation-like zen feeling from the experience. If you're going to take one hour out of your day to do something for yourself, Pure Barre North Hollywood is where you need to be.
Pure Barre North Hollywood classes are led by trained dancers who live the fitness level you want to achieve and are excited to help you get there. Pure Barre North Hollywood owner Brittany Egbert and instructors Jenna, Dayna, Will, Vanessa, Katy and Linnea are each talented performers in their own right and use the Pure Barre method personally for longevity and poise. They depend on their fitness for a living and passionately believe in Pure Barre because they use the technique themselves.
"I do not believe that going through the motions of going to the gym is worth the membership. However, if anyone does just 3 sessions a week at Pure Barre any result is achievable no matter where you are coming from or where you're going," said Egbert.
Pure Barre North Hollywood is located at 4929 Lankershim Boulevard, Unit D in North Hollywood, CA. For more information email northhollywood@purebarre.com or call (818) 942-7098.
**** For information on Los Angeles theatre, tickets to theatre in North Hollywood's NoHo Arts District, theatre reviews, the NoHo Event Calendar, restaurants, news and local businesses in NoHo, or anything and everything about the NoHo Arts Community, bookmark nohoartsdistrict.com. Follow us on Twitter @OfficialNoHo. Pure Barre North Hollywood opens in L.A.'s NoHo Arts District in North Hollywood on the official NoHo Arts District Guide; www.nohoartsdistrict.com Pure Barre North Hollywood, ballet body, ballet barre, fitness, noho fitness classes, noho gyms, NoHo , [north hollywood plays], noho arts district, noho plays, noho calendar, north hollywood calendar, noho events, north hollywood events, [ los angeles theatre district]