Backstage Talk with the Creative Team Behind the Road Theatre's Summer Playwright Winner, Nobody's Home
Q & A with Marc Mantell & William Knight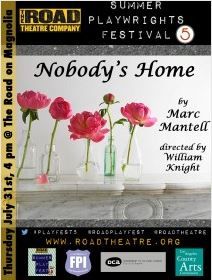 In a cafeteria on the verge of destruction, six lonely women come together and their lives are forever changed.
This is the setting of a new dramedy written by North Hollywood local Marc Mantell, and directed by North Hollywood's William Knight.
The play, called Nobody's Home, was recently featured by the award-winning Road Theatre Company as the winner of its Summer Playwright Competition.
A touching comedic force set in the late 1970s, Nobody's Home grabs at the chords of the audience's heart strings while also making them laugh as its six characters develop life-long bonds.
Mantell and Knight, both residents of the NoHo Senior Arts Colony, recently provided some interesting insights into their amazing accomplishment:
Q: What inspired you to write this?
Mantell: While I've written several plays throughout my career, this was in fact the first play I ever wrote. I was in my early twenties at the time and didn't know very much about the industry yet.
The play was written about six elderly women in a time where a play strictly about women might not have been as widely accepted. Therefore, this play ended up on the back burner for many years and resurfaced when I saw the Road Theatre's Summer Playwright Competition at the NoHo Senior Arts Colony.
Q: What inspired you to enter this contest?
Mantell: I had always loved this play and was reminded of this when I saw the entry for the contest.
When I had originally written the play in my early twenties, I gave it to a friend of mine who was an actress at the time to review.
She was impressed with the play and gave it to a famous actress that she was working with. Within a short period of time, major Broadway and Film stars were reading, recommending and passing the play around to each other.
Before I knew it, the play had gone through Joan Fontaine and ended up with Katherine Hepburn; all of whom were pushing for this to be produced on stage or as a film.
Although producing the play never came to fruition, this was a very exciting experience for a young guy in his early twenties, especially for the first play I had ever written.
Q: Do you have plans to write any other plays in the future?
Mantell: Absolutely! I thoroughly enjoy writing and creating different stories, plays and even musicals. Throughout my career, I've written several plays, eight screen plays and three musicals.
This year I've had major productions in Bogota, Columbia and in Houston of my new musicals.
The NoHo Senior Arts Colony also offers a free writing class that I take almost every Friday. Diana Rosen, a wonderful instructor brings a different inanimate object of some sort to each class. We use this as inspiration to write and express our own unique creativity.
Q: Have you ever directed anything like this before?
Knight: Directing was a relatively new experience for me since most of my experience lies within acting. I worked On and Off Broadway for almost 15 years in New York City and have done several TV, film and voiceover projects here in Hollywood.
However, when I was approached by the Road Theatre to direct Nobody's Home, I thought this would be a fun and exciting new experience.
Q: What was the biggest challenge in directing this play?
Knight: The Road Theatre and I collaborated together to find the cast of Nobody's Home. One of the cast members was a fellow resident at the NoHo Senior Arts Colony.
Once the cast was determined, the biggest challenge was coordinating rehearsals with everyone's busy schedules. All of the cast members had their own unique commitments, and getting everyone together in the same room at the same time was our biggest hurdle.
We were able to do it, though, rehearsing in the library and the community room. By the time the show came around we were ready to go!
Q: Has the NoHo Senior Arts Colony played a role in the development/production of this play?
Knight: The NoHo Senior Arts Colony created an intimate, creative environment where individuals like myself can thrive.
The community features art exhibitions from different residents in the lobby each month, the theatre is in our building, and there are a variety of classes available to all of us.
It was a wonderful experience to have a few of my fellow NoHo Senior Arts Colony residents come together to work on this project. This is one of the many reasons I truly enjoy living in this community.
************
Apartments at NoHo Senior Arts Colony are now available for lease. The community is for adults age 62+ and features one-and two bedroom apartments. Art and social programs referenced above are available free of charge to our residents. The community also features on-site art openings, theatre previews and play readings by the professional Road Theatre Company. Whether you are an artist or simply take pleasure in the creativity of life, visit www.nohoseniorartscolony.com or call 855-399-5381. NOHO Senior Arts Colony is located at 10747 Magnolia Boulevard in North Hollywood, California.
**** For information on Los Angeles theatre, tickets to theatre in North Hollywood's NoHo Arts District, theatre reviews, the NoHo Event Calendar, restaurants, news and local businesses in NoHo, or anything and everything about the NoHo Arts Community, bookmark nohoartsdistrict.com.