We celebrate everything in NoHo, including Banned Book Week!
On Wednesday, September 30, Lit Cine commemorates national Banned Books Week with a screening of Fahrenheit 451, based on Ray Bradbury's seminal novel. FAHRENHEIT 451 is part of Lit Crawl L.A.'s first film screening series, celebrating the intersection of film and L.A. literature.
In an oppressive future, a fireman whose duty is to destroy all books begins to question his task. Directed and co-written by François Truffaut and starring Julie Christie and Oskar Werner.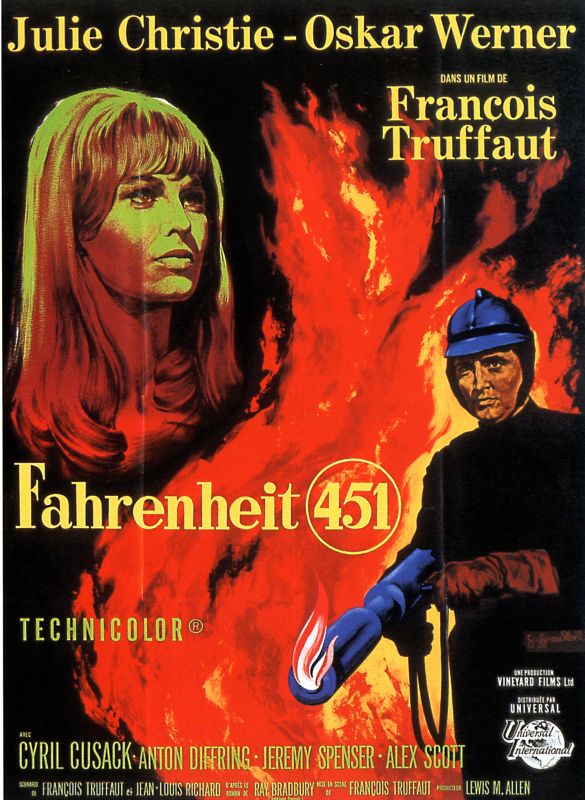 Enjoy this American classic followed by an exploration of At What Temperature Does A Kindle Burn?, censorship and access in the digital age. Readings by Cecil Castellucci, Harry Northup and Beyond Baroque Director, Richard Modiano, moderated by First Amendment scholar and writer, Elizabeth Blakey (CSUN).
Banned Books Week Event
WHEN:
Wednesday, September 30, 2015
WHAT:
Your VIP ticket includes the movie and a 6:30PM pre-screening Happy Hour, including appetizer and wine or non-alcoholic beverage with the panelists and a Pop-Up bookstore hosted by The Eclectic and Blastoff Comics and Books.
WHERE:
6:30-7:15PM Reception & Signing with Panelists:
The Eclectic Patio
5161 Lankershim Blvd. NoHo
7:30PM Screening: Laemmle NoHo 7
5240 Lankershim Blvd. NoHo
A portion of your ticket purchase will support Lit Crawl L.A., a free to the public, grassroots literary festival, returning to the NoHo Arts District on October 21, 2015, presenting an evening of 40 presenters including readings series, lit journals, performance groups, local presses and more at 35+ locations in NoHo. The 2015 Lit Crawl L.A is Greater Los Angeles' only grassroots literary event and promises to be another magical, vibrant night for all!
**** For information on Los Angeles theatre, tickets to theatre in North Hollywood's NoHo Arts District, theatre reviews, the NoHo Event Calendar, restaurants, news and local businesses in NoHo, or anything and everything about the NoHo Arts Community, bookmark nohoartsdistrict.com. Follow us on Twitter @OfficialNoHo.