MR. POITIER GIVES HIS BLESSING
NoHo's Sherry Theater thrives on being a platform for artists to open new works with strong messages our community needs to hear. Our newest friend at the Sherry Theater, Mr. Mohammed Ali Ojarigi, has a message worth listening to, not just through his plays but through his life as well. More than an artist, Mohammed is an activist for positive cultural and social change as well, and his plays are bold and impactful. When Mohammed first came to the Sherry Theater to discuss his new play GREENWOOD 1964, opening this weekend, the story I discovered behind his storytelling had me spellbound.
It seemed Mohammed had gotten a blessing on the play by Mr. Sidney Poitier himself. This was NOT going to be your average play. Sydney Poitier is a legend. How did this actor/writer have such connections? I dug deeper. Here's what I found.
In 2011, after receiving his degree in Theater Performing Arts at the University of Nevada, Mohammed attended the opening weekend of Harry Belafonte's biographic documentary "Sing Your Song" and was moved to tears. That was the moment everything clicked for him as an Artist and set his course of action. "Here was a man who was the biggest star of his time and used his platform in the highest regard to enhance humanity. I mean he literally had the president's ear, pushing social justice agendas and such. How many celebrities are doing that nowadays? What I mostly hear them boasting about is playing basketball with the president". Returning home, Mohammed was inspired to write a script based on Mr. Belafonte's trip to Greenwood Mississippi in 1964, a trip that was also taken by Sidney Poitier.
When Mohammed finished the script he let his wife Moya read it first, as he usually did. Then he sent it to his parents Aliyu and Diane; they are always the first eyes to read his work for flow of the story, punctuation and grammar. After a few tweaks he felt confident enough to send it to the representatives for Mr. Sidney Poitier and Mr. Harry Belafonte. Mohammed sent it as a courtesy due to the fact that it's based upon the two men and an actual trip made to the racially charged town of Greenwood Mississippi in 1964; only the circumstance is fictionalized.
Mohammed wasn't expecting any correspondence because "when I write it isn't for anyone but truth and freedom." Surprisingly, within three weeks Mohammed's phone was ringing, and it was none other than Mr. Poitier on the other end. At first Mohammed thought it was one of his actor friends trying to pull a fast one. When Mohammed came to the realization that it was in fact Mr. Poitier he quickly put the phone to his wife's ear and mouthed, "It's Sidney Poitier!" His wife, shocked and ecstatic, quickly pushed the phone away and returned Mohammed to the hot seat.
Midway through an hour conversation with Mr. Poitier, Mohammed's heart rate finally began to calm. The two men talked about the play and Mohammed's other writings, advice Paul Robeson gave to Mr. Poitier, his book writing and his current interests. When Mohammed thanked him for using his artistry as a weapon he said, "We did what we could in our time, now it's your turn to be the voice of your generation."
GREENWOOD 1964 opens April 12th at The Sherry Theater and offers childcare for parents – a service through the school Mohammed runs with wife Moya Ojarigi. Proceeds from the play go directly to Inner Child Artistry Learning Academy. The Academy is designed to teach our children the power of their gifts by loving the skin they are in. Inner Child Artistry is currently expanding to service more kids from 18 months to 5 years old.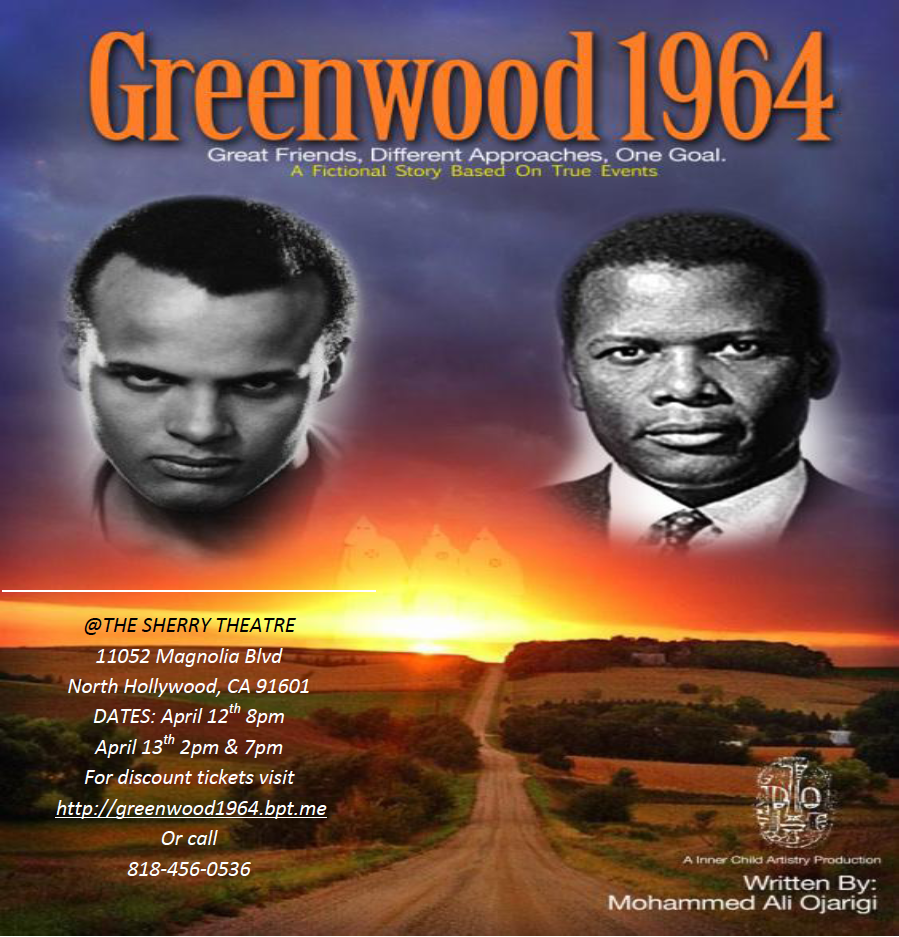 This play takes us back to a time in 1964 Dr. King called "The Year of Promise" due to the rise of fear and control versus the quest for social equality. We are dealing with some of the same issues of fear and control even more so now. If you believe you are the power to make a difference this play will give your soul a hug. It's our time; this is our "Year of Promise." Seats are limited, reserve yours today. http://greenwood1964.bpt.me
SOCIAL MEDIA LINKS-
INNER CHILD ARTISTRY PRODUCTION COMPANY | INNER CHILD ARTISTRY LEADERSHIP ACADEMY
IMDB | FACEBOOK | TWITTER @Ojarigi | GREENWOOD 1964
Get to know North Hollywood's Sherry Theater!
SHERRY THEATER FACEBOOK | TWITTER @sherrytheater | KATHERINE BOECHER @mizzboecher
**** For information on Los Angeles theatre, tickets to theatre in North Hollywood's NoHo Arts District, theatre reviews, the NoHo Event Calendar, restaurants, news and local businesses in NoHo, or anything and everything about the NoHo Arts Community, bookmark nohoartsdistrict.com.