HOOKED: From Outcall to Answering the Call: My Journey from Hooker to Healer
We here at NoHo Arts District dot Com love to share with our readers stories of inspiration and triumph, and especially stories from our North Hollywood neighbors. So NoHo, get to know Bailey Mason and her true story of love and transformation. Catch her in her critically acclaimed solo show HOOKED on Sundays at Spirit Works Center and learn how she went from hooker to healer.
In her show, Bailey tells us about her time being a performer in stand-up comedy, something she was "hooked" to do. Even though she attempted to provide laughs while in the comedy clubs, her actual life was anything but funny. During this time, she was robbed, attacked, and endured the death of her mother from natural causes and her husband, not natural causes! She also found other work, even though that work wasn't necessarily ethical or legal. HOOKED recounts Bailey Mason's very personal transformation via her journey from hooker to healer, from outcall to answering the call and being of real service and an inspiration to others.
Whether we like it or not, our lives are about transformation. Bailey Mason was a hooker, a prostitute, a lady of the night, a sleaze bag. Turning tricks for money? What? Who? Me? So how do you deal with all the negative thrown your way and turn it into something positive and life-affirming? HOOKED is about the transformative power of love which cannot be truly realized without having seen the darker side first.
Bailey shares the true story of how her life evolved into something much more positive and spiritual as a result of finding love in a most unexpected way after living in the dark for so long. Seedy? Scary? A roller coaster ride through hell? Of course it was – and guilt ridden to be sure. But it was a rite of passage Bailey had to go through to transform herself into the person she shares with you during her autobiographical solo show. Her story needs to be told to encourage others to turn their lives around and become the person they were always meant to be, no matter what challenges appear to be in your way, and know that love will find you no matter how hard you try to hide from it.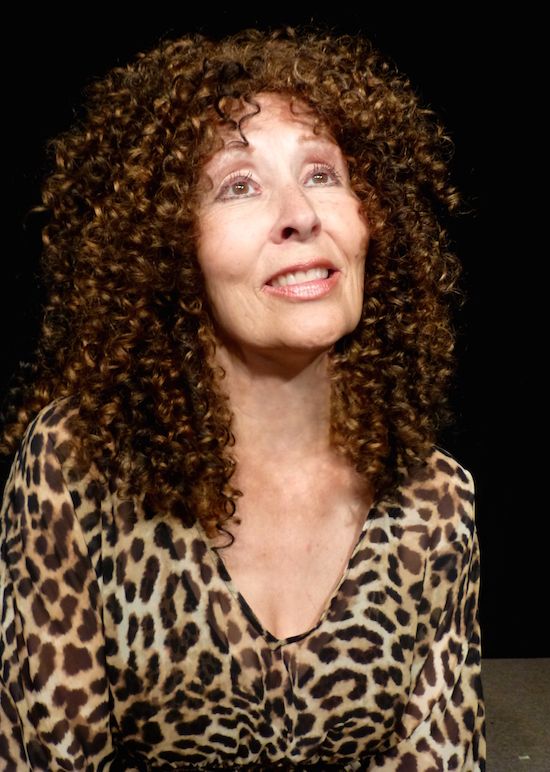 Photo: Shari Barrett
How did you go from 'Hooker to Healer'?
When I left home, my parents drove me to New York City, gave me $100 and said, "good luck." Scared and alone with no marketable skills, I was forced to use the best asset I had which was my body. What was I to do? This course left to experiences I never could have imagined as a child. How does someone with no life experience escape from a life of degradation and terror? Through my powerful desire to become an successful actor I thought I should go to Hollywood. I seduced an agent to take me there. My exuberance and naivete drove me to the seedier elements of Hollywood. I got an education in how to exploit pretty, young girls. After two failed marriages, and a near death experience, I discovered I had to find another way. A friend offered to take me to church with her. I had a hard time believing there was a God who was kind and loving. After many years of struggling to make it in the industry, I decided to write my own one woman show. It was thru this creative act that I found true love. This made me question my feelings about God and gave me hope that there is love in the universe.
What type of healer are you?
After studying for four years to become a Science of Mind Practitioner, I heal through the power of prayer.
Can you give us a feel for the show?
This show is significant because it shows the resilience of the human spirit. No matter what life throws at you, there is always a way out. Let me show you how I found my way out. Perhaps you can follow.
What advice can you give young women facing difficult situations?
Find something you care about that is bigger than your situation and hang on to it and never let it go. Find a way. Find a way. There are thousands of examples of people who are in situations that they believe are impossible to escape. The power of a dream and the power of love are stronger than a situation.
What's next for you?
Take HOOKED to New York and off Broadway!
WHEN: Sundays at 7pm. Runs through June 29, 2014
WHERE: Spiritworks Center. 260 N. Pass Ave. Burbank, CA 91505
http://www.hookedagain.net | https://www.facebook.com/BaileyMasonHooked
**** For information on Los Angeles theatre, tickets to theatre in North Hollywood's NoHo Arts District, theatre reviews, the NoHo Event Calendar, restaurants, news and local businesses in NoHo, or anything and everything about the NoHo Arts Community, bookmark nohoartsdistrict.com.