Don't stay in this New Year's, Stay in NoHo
We all know the dreaded question this time of year: "So what are you doing for New Year's Eve?" There's always that pressure to have fun on the last night of the year. But this New Year's, you actually can in North Hollywood. The Federal Bar and Bow & Truss are whipping up some delish dishes, yummy libations, a night of dancing and a chill atmosphere, right here in NoHo. Take a look at what our pals are putting together for us this New Year's.
The Federal
The Federal Bar North Hollywood (5303 Lankershim Blvd. NoHo) will host a stellar evening of dinner and dancing. If you've never been to this NoHo staple, you need to go for this special evening. You'll find the atmosphere very NoHo – easy going, eclectic and just plain fun. Looking at their dinner menu, we're dying over the Manchego fondue.
General manager Steve Simon says, "We're hosting an exciting night of dancing, DJ and cocktails. For $75, guests will get a special four-course dinner, tax and tip included, entrance to the club ($25 value), beer or wine ($8-10 value) and champagne at midnight. It's a great way to ring in the New Year."
There are two ticket packages available.
"Dinner & Drinks" is $75 per person and includes a four-course, prix fixe menu, beverage, entrance to the upstairs club, champagne toast at midnight and party favors.
"Drinks & Dancing" is $100 per person and includes entrance to the upstairs club, an open premium bar in the VIP area, hor d'oeuvres from 9:30pm-11:30pm, champagne toast at midnight, free parking and party favors.
General admission for the evening is $25 per person.
Limited quantities of each package are available. To purchase, call the reservations line: 818-980-2555 ext 2.
The Federal Bar New Year's Eve Menu
Appetizer to Choose
Baked Herb Goat Cheese
Pickled veggie and crostini
Butter Poached Shrimp
On grilled polenta with spicy pomegranate glaze
Chorizo Filled Dates
With Manchego fondue
Salad to Choose
Crispy Brussels Sprouts
Spinach, crumbled goat cheese with pancetta and blackened onion, kissed with balsamic
Winter Greens
Roasted pear almonds and pecorino with Dijon vinaigrette
Entrée to Choose
Pan seared halibut
Roasted root vegetable, basil pesto sauce
Grilled Rib Eye
With garlic roasted cauliflower puree and mustard greens, chimichurri
Roasted Squash Ravioli
With truffle brown butter and sage
Dessert To Choose
Choco Taco
Sweet waffle taco dripped in ganache and filled with deep chocolate mouse
Cream Cheese Butter Cake
With house made salted caramel ice cream
Four-course, prix fixe dinner, includes a glass of beer or wine, and champagne toast at midnight, $75 per person (tax and gratuity included)
Bow & Truss
Just down the street, NoHo's Bow & Truss (11122 Magnolia Blvd. NoHo) is hosting a special New Year's Eve dinner in their relaxed indoor-outdoor space. If you've never been to this smooth-vibe venue, you'll be satisfied not only by the space but also by their mixology program. In layman's terms, their drinks are one-of-a-kind and they have magic ice cubes. Their menu is eclectic and fun. We're looking forward to the Cava Sorbet.
Bow & Truss New Year's Eve Menu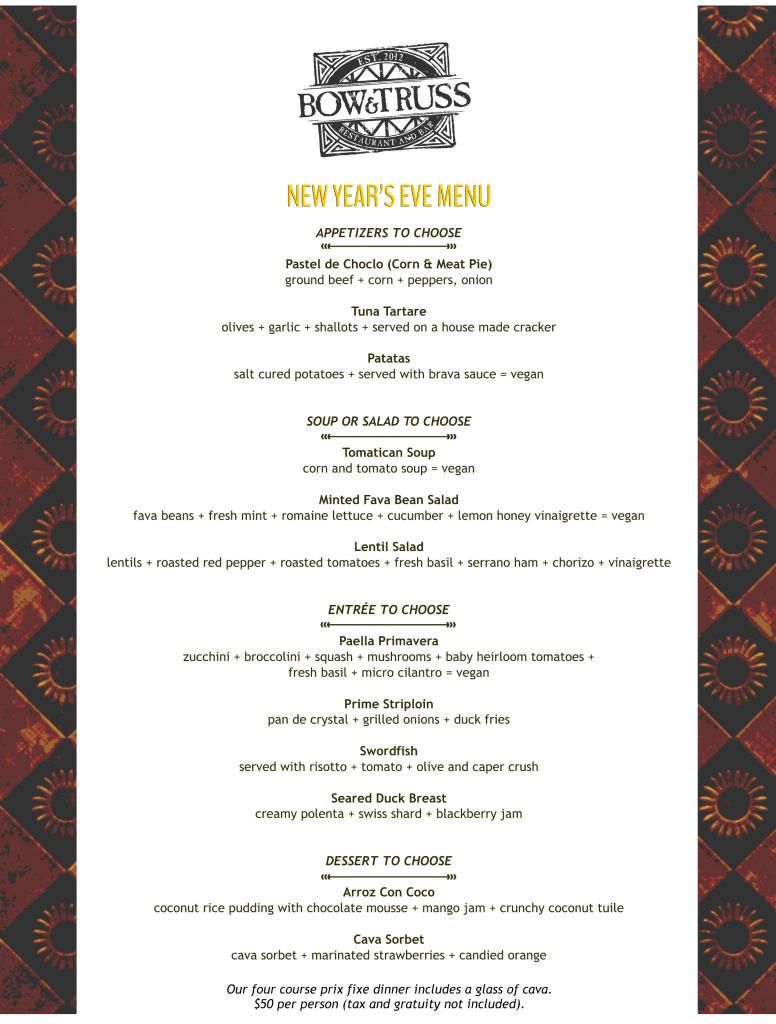 The four-course, prix fixe dinner includes a glass of cava. $50 per person (tax and gratuity not included)
******
Have a happy and safe New Year's Eve, NoHo!
The NoHo Arts District dot Com Team
**** For information on Los Angeles theatre, tickets to theatre in North Hollywood's NoHo Arts District, theatre reviews, the NoHo Event Calendar, restaurants, news and local businesses in NoHo, or anything and everything about the NoHo Arts Community, bookmark nohoartsdistrict.com.