The NoHo Card Is Your Ticket To NoHo
Do you have a NoHo Card? Go to www.nohoartsdistrict.com/nohocard where you will see a list of businesses participating in the NoHo Card and their great discounts. Pick up or print out your Free NoHo Card and start saving money today.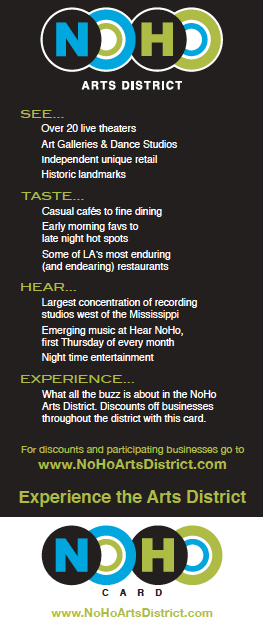 The majority of NoHo theaters are offering 25% to 50% discounts on all shows. Best of all, the NoHo Card is FREE and can be picked up easily at any one of the participating businesses or to make it really simple, just print a copy of the NoHo Card.
"When designing the program, we didn't want to do a one-time discount program like Lifebooker or Groupon," says www.nohoartsdistrict.com's publisher Nancy Bianconi. "Our goal with the NoHo Card is to offer a long-term, consistent discount so folks will enjoy more of the arts district, and more often."
If you are a NoHo business and would like to participate, contact Nancy@nohoartsdistrict.com.

**** For information on Los Angeles theatre, tickets to theatre in North Hollywood's NoHo Arts District, theatre reviews, the NoHo Event Calendar, restaurants, news and local businesses in NoHo, bookmark nohoartsdistrict.com.