Councilmember Paul Krekorian's Community Holiday Party
Let's join our North Hollywood Councilman Paul Krekorian and the entire Council District 2 team as we celebrate the holiday season, a year of great partnerships and our incredible (fabulous, wonderful, creative) NoHo arts community.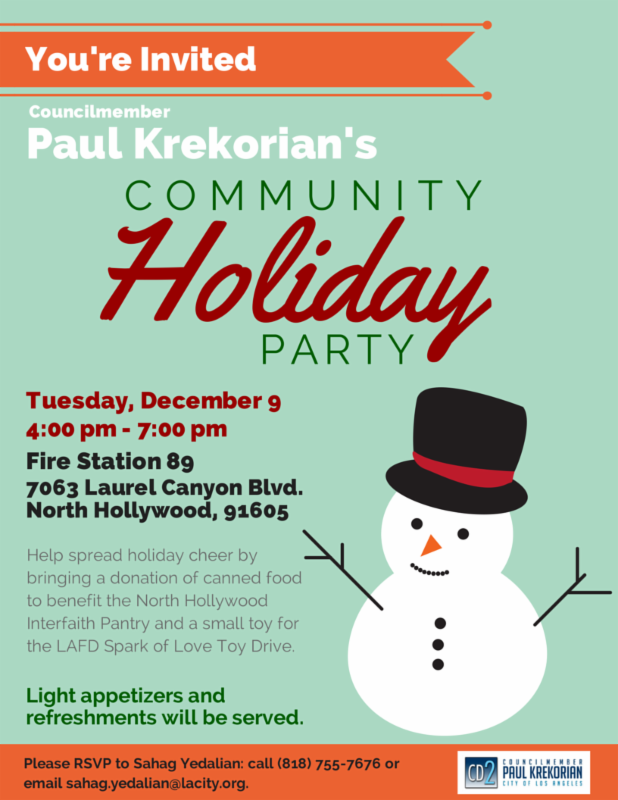 WHAT: Paul Krekorian's Community Holiday Party
WHEN: Tuesday, December 9 from 4-7PM
WHERE: Fire Station 89
7063 Laurel Canyon Blvd.
North Hollywood, CA 91605
Stop by and enjoy light snacks, refreshments and good conversation. It's also an opportunity to get to know more neighbors and the council office team members.
Please make sure to bring a canned food item in donation to benefit the North Hollywood Interfaith Pantry and a small unwrapped toy for the LAFD Spark of Love Toy Drive. Last year, the citywide toy drive collected more than 500,000 toys for children in need across Los Angeles.
Please RSVP by calling (818)755-7676 or emailing sahag.yedalian@lacity.org.
Hope to see you at the party!
**** For information on Los Angeles theatre, tickets to theatre in North Hollywood's NoHo Arts District, theatre reviews, the NoHo Event Calendar, restaurants, news and local businesses in NoHo, or anything and everything about the NoHo Arts Community, bookmark nohoartsdistrict.com.