Honoring our fallen police officers on May 13
Chris Cortijo, 51, was stopped at a traffic light around 5:30 p.m. earlier this month at the intersection of Saticoy Street and Lankershim Boulevard in Sun Valley when an SUV hit him and pinned him between two vehicles. Chris Cortijo worked in the LAPD's Valley Traffic Division and arrested more than 3,000 DUI suspects over his 26-year career. He was also a former Marine. Chris Cortijo was assigned to the Valley Traffic Division and is one of nine fallen police officers in Los Angeles. In 2008, the North Hollywood Police Department lost Spree Desha, End Of Watch date: 9/12/2008. She was assigned to North Hollywood, specifically.
I received information from Lea Rookwood who contacted me about the Candlelight Vigil that will be taking place on May 13, 2014. I asked Lea why she decided to coordinate this event. "I dedicate my time and effort to honor those that so selflessly fight to protect us," said Lea. She has been an active member of LAPD's CPAB and PALS for a long time but decided to create the United By Light Candlelight Vigil on her own. Please take a moment to read the below announcement. The NoHo Arts District has one of the lowest crime rates in the City of Los Angeles. Why? Because of our dedicated, brave police officers. Let's gather the NoHo arts community for this very special event and if you can't make it, a donation will be very much appreciated.
Today in the United States, some 900,000 law enforcement officers put their lives on the line for the safety and protection of others. That protection comes at a price, however. Each year, there are approximately 60,000 assaults on law enforcement officers and over the last decade, an average of 160 officers a year have been killed in the line of duty.
Each spring, thousands join together in Washington, DC at the National Law Enforcement Officer Memorial to pay tribute to the law enforcement professionals who serve today and those who have made the ultimate sacrifice in the name of public safety.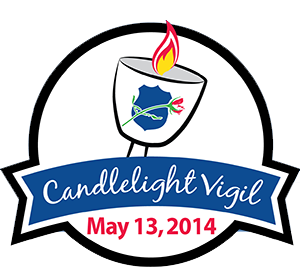 While not everyone can join in person, you can still help honor the service of our federal, state, and local law enforcement officers by supporting or joining the Vigil viewing event at the North Hollywood Police Department on May 13th, 2014 at 8:00pm. There will be a special dedication to honor our recently fallen officer, Christopher Cortijo. Lea has committed to raising $1,000.00 to support the memorial, and they are currently at 30% of my goal. You can donate to this worthwhile cause here: http://support.nleomf.org/goto/NorthHollywood
WHERE: North Hollywood Police Department 11640 Burbank Blvd., in the Community Room
WHEN: May 13, 2014 at 8PM
Your support is appreciated and we look forward to seeing you at the United By Light Candlelight Vigil
**** For information on Los Angeles theatre, tickets to theatre in North Hollywood's NoHo Arts District, theatre reviews, the NoHo Event Calendar, restaurants, news and local businesses in NoHo, or anything and everything about the NoHo Arts Community, bookmark nohoartsdistrict.com.