North Hollywood Eyesore Becomes Eye-catching Public Art
NoHo's City Councilmember Paul Krekorian and the North Hollywood community will unveil L.A.'s newest—and one of the city's largest—public murals, the "Vintage North Hollywood Mural," a 9,000-square-foot artwork that will cover the Whitsett Slope. The mural brings to fruition years of community planning and collaboration to beautify the slope and honor North Hollywood's rich history and contributions to the development of Los Angeles. It was created with funding secured by Councilman Krekorian and was painted by artists Ernie Merlan and Levi Ponce.
WHAT: Vintage North Hollywood Mural Unveiling/Ribbon Cutting and Press Conference
WHEN: Saturday, November 15 at 11AM
WHERE: Corner of Whitsett Ave. and Saticoy St. South, North Hollywood 91605 (map)
WHO: Councilmember Krekorian, mural artists Ernie Merlan and Levi Ponce, members of the North Hollywood West Neighborhood Council and North Hollywood Northeast Neighborhood Council, other elected officials, and mural volunteers, including students from Exceptional Minds, a non-profit vocational center and animation studio for young adults on the autism spectrum.
Here's a sneak peek of the mural from artist Levi Ponce Facebook>>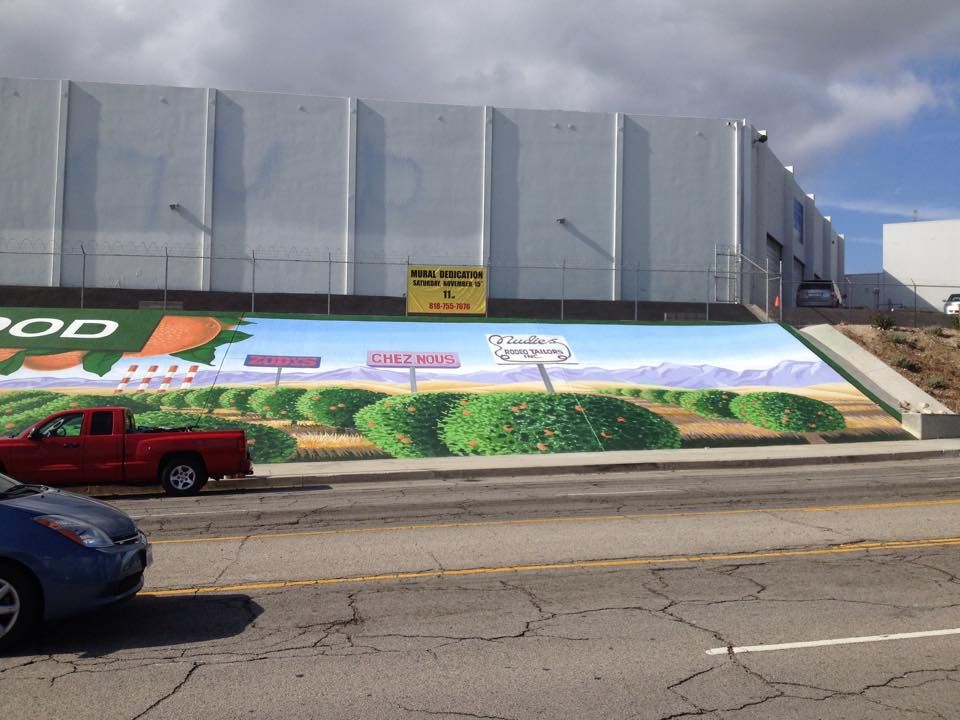 Krekorian, dozens of community leaders cutting massive ribbon draped across the 240-foot wide and 40-foot long mural. Nudie Cohn's Pink Cadillac, which is depicted in the mural, will be there. Cohn, a costume designer for Elvis Presley, among others, had his office in NoHo for decades.
"This is a community triumph and an example of the great things that come out of collaboration," said Krekorian. "When we started cleaning up the Whitsett Slope in 2013, it was an overgrown, debris-ridden mess with a 240-foot long slab of concrete in the middle. Now, it's got great landscaping and a fantastic mural that everyone can enjoy."
HISTORY OF THE MURAL AND THE WHITSETT SLOPE
The story of the Whitsett Slope is a story of people coming together to take something long neglected and turn it into a neighborhood jewel.
For years, the Whitsett slope was considered a blighted area. It was unsightly and weed-infested. A neighborhood cleanup in spring 2013 initiated a multi-phase beautification plan. Just months after first sprucing it up, Councilmember Krekorian worked with the North Hollywood West Neighborhood Council, the North Hollywood Northeast Neighborhood Council, city departments and many others to add plumbing and irrigation for plants and shrubbery.
Krekorian secured funding for a large public mural to turn the concrete slab on the slope into a work of art that celebrates North Hollywood's vibrant history. Mural artists Ernie Merlan and Levi Ponce painted the mural in just over a month's time.
Los Angeles City Councilmember Paul Krekorian, chairman of the Budget and Finance Committee, represents Council District 2, which includes North Hollywood, Studio City, Valley Village and other communities in the east San Fernando Valley. His website is cd2.lacity.org, where you can sign up for news updates. Visit him on Twitter (@PaulKrekorian) or Facebook: http://www.facebook.com/paulkrekorian
**** For information on Los Angeles theatre, tickets to theatre in North Hollywood's NoHo Arts District, theatre reviews, the NoHo Event Calendar, restaurants, news and local businesses in NoHo, or anything and everything about the NoHo Arts Community, bookmark nohoartsdistrict.com.