What is New in the NoHo Arts Community? The Bar-B-Que Bar!
The Bar-B-Que Bar may have a brand new name and a great new look, but they still have some of the best BBQ in town.
The former Kansas City BBQ has gotten a makeover and now has a full bar. They have a great selection of beer, Chimay and Allagash Curieux to name a few, and a large rye whiskey selection, including Bookers and Bulleit. It's a new spot for some BBQ but also to watch one of the games while enjoying a cocktail.
Not to worry BBQ fans, they're are still serving up their great barbeque menu, including their famous brisket that is smoked over hickory wood for 24 hours. Another thing that hasn't changed at the The Bar-B-Que Bar is their "top secret sauce."
We did ask the owners and brother and sister team Nabeel and Shireen Kort if they could give us some hints on how they made their sauce. Shireen said, "With a lot of care, lots of practice and a love for barbeque." Nabeel said, "I have looked for years for a good, authentic barbeque restuarant in Los Angeles…never found one so we started our own. NoHo is our neighborhood and deserves a place that feels like home where you can relax and watch the World Cup on their giant screens or have a great meal with a good friend." In addition to their full bar, they now have an intimate lounge where you soon will be able to see some of your favorite local musicians playing.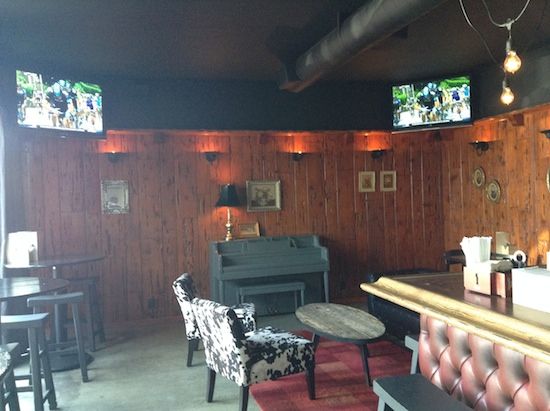 New Hours:
Noon to Midnight Sunday – Wednesday (food served until 11PM)
Noon to 2AM Thursday, Friday, Saturday (food served until 1AM)
Stop by this "neighborhood" restaurant and bar and say hello but make sure to try their BBQ and have a cocktail to go with it.
The Bar-B-Que Bar
10863 Magnolia Blvd.
NoHo Arts District
(1 block or so from Vineland on the north side of the street).
818 754-0030
https://www.facebook.com/BBQBARLA
https://twitter.com/BBQbarLA
http://instagram.com/bbqbarla
**** For information on Los Angeles theatre, tickets to theatre in North Hollywood's NoHo Arts District, theatre reviews, the NoHo Event Calendar, restaurants, news and local businesses in NoHo, or anything and everything about the NoHo Arts Community, bookmark nohoartsdistrict.com.