If you thought the Virgin Mary was the only account of immaculate conception to be told, then you haven't been watching the CW Network recently. Based on Venezuelan telenovela "Juana la Virgen," comedy-drama "Jane The Virgin" follows a young pragmatic Latin woman (played by Gina Rodriguez) who makes a virginity vow at a young age. Unfortunately, Jane is accidentally artificially inseminated and impregnated with semen meant for someone else, thus the make believe story begins.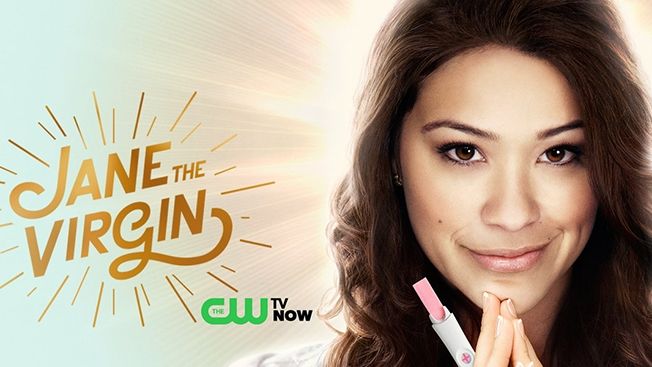 Jane lives at home with her eccentric family while they help her navigate what decisions to make. But advice in her household is often varying and many times conflicting. When Jane was a little girl, her deeply religious grandmother (Ivonne Coll) made her hold a white flower and then crumple it up, traumatically demonstrating that if she lost her virginity to a man before marriage then she could never get it back. But her morally loose mother (Andrea Navedo), who herself had her daughter at 16, has a different opinion about sex. She says, "the best way to get over a man is under a man."
At first this family seems to center around the melodrama of their favorite telenovela they watch faithfully meanwhile Jane's real life slowly turns into one. Things start to heat up when her detective boyfriend Michael (Brett Dier) starts to become jealous of her newfound chemistry with Rafael (Justin Baldoni), the father of her in-vitro child who himself is caught in a loveless marriage and also happens to be her boss. And if carrying his baby is not enough, Jane won't face the fact that she is developing strong feelings for Rafael. Now if you think that's too complex of a plot, just wait till you meet the plethora of over the top side characters that tend to pop in and out at any given moment.
Jane the Virgin proudly gives us all a glimpse of Latin culture and a kind family that we are not often shown on network television, let alone the CW network which is currently not known for diversity. But that seems to be changing. There is becoming a consistent theme of casting diversity this season with sitcoms like "Black-ish," "Cristela," and soon to be premiered "Fresh off The Boat," helping to showcase multi-cultural parts of America that are still so foreign to so many of us. Notably, this series wrestles comedically with morality, family, and seems to promote pro-life values in a non-preachy relatable way.
Recently it garnered several surprise Golden Globe nominations for 2015 for lead actress Gina Rodriguez and the show itself is going head to head this year in the comedy category with favorites like "Girls" & "Orange is the New Black." Ratings for the new show have not been extremely strong, but since the Globe nods there is renewed hope that it will make it to a second season.
Like the immaculate conception of the Virgin Mary, Jane The Virgin seems far-fetched and probably a hoax, yet something in you can't quite discount it. Flying in the face of all reason, this show is everything you'd expect a telenovela or a prime time soap opera to be: overdramatic, sentimental and downright outlandish and that's what gives it its undeniable charm. It's unrealistic, yet somehow believable and even more so likeable. Here we have a young woman trying to find her own path in the middle of a mixed up, complicated story while trying to dream of a better tomorrow, and that's something every one of us can readily relate to and want to believe for.