A FAMILY OF ARTISTS: A FAMILY GROUP SHOW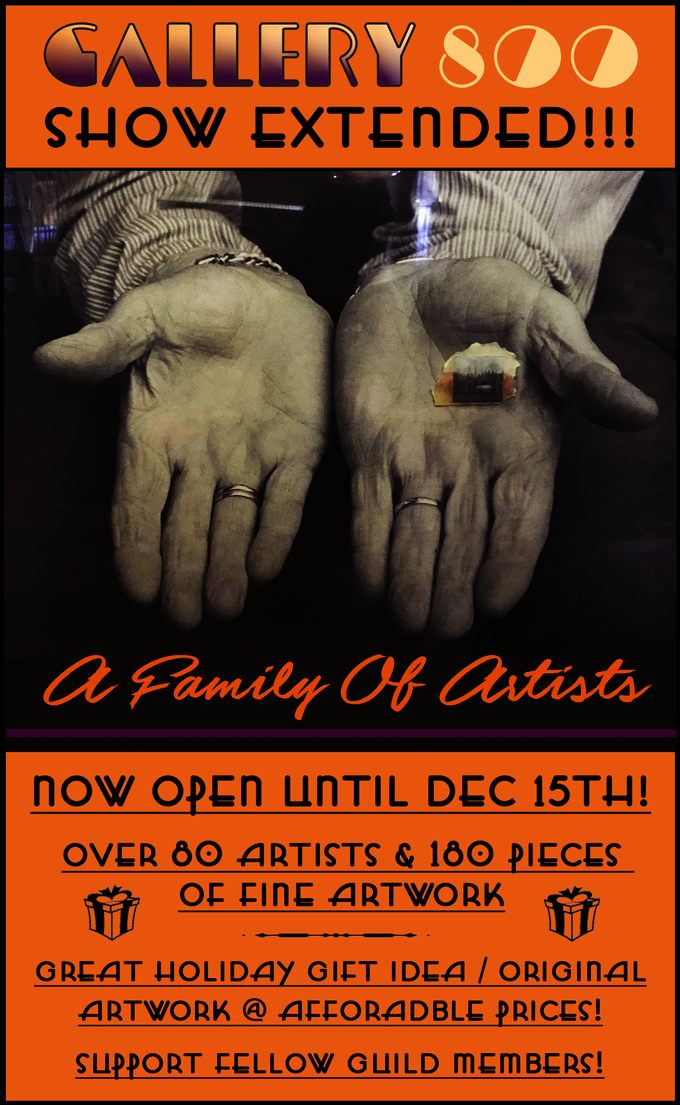 ARTISTS TO BE REPRESENTED AT GALLERY 800:
Ilana Alazzeh
Sam Ambler
Miguel Andrisani
Cate Bangs
Joy M. Bentley
Katie Bode
Spencer Brennan
Angela Cartwright
John V. Cartwright
Scott Clark
Miranda Cristofani
Franco Cristofani
Enzo Cristofani
Joe Comeau
Francisco del Mar
Mike Denering
Julie Dickinson
Bridget Duffy
Josh Duffy
Nate Duffy
Brian Eatwell
James Faulkner
Michelle Faulkner
Zander Fieschko
Jim Fiorito
Gwen Fiorito
Frank Forte
Shirley Forte
Thomas Frohling
Mia Gilbert
Carole Goldman
Pete Graziano
Alec Hammond
Colin Irwin
Patrick von Janicke
Stan Johnson
Emily Keifer
Paul Kocalis
Catherine Koon
Janet Kusnick
Judie Landy
Kenneth Larson
Seana Marie Larson
Daniel Maltese
Chris Maltese
Joe Martinez
Alessandro Marvelli
Gabrielle McKenna-Elliott
Samuel Michlap
John Moffitt
Phyllis Thurber-Moffitt
Michael Okuda
Tom O'Neil
Stasys Pinkus
Patti Pinkus
Rhea Rebbe
Roberto Rios
Matthew Robinson
Edward L. Rubin
Roma Sanchez
Nelly Sarkissian
Bjorn Skrimstad
Jeff Skrimstad
Nancy Skrimstad
Olivia Skimstad
Tiffany Smith
Lara Solanki
Maggie Srmayan
Ellie Stark
Hilda Stark
Jeanne Tierno
Philip Toolin
Nic Weether
Janet Yoo
The Art Directors Guild's Gallery 800 presents a new show, A Family Of Artists, showcasing the creative talent of it's members and inviting their families to take part. It also celebrates the family of the union/IATSE - welcoming members of Local 44, Local 839 & Local 600 –as well as the unity of all artists, who are connected in the shared experience of creating.
72 artists will be represented .
The show will open with an Opening Reception on Saturday, August 25th from 5-8pm. There will be a live jazz band, the 'Do Drop In Trio' and refreshments.
This event is free and all-ages friendly.
The show will run through December 15th
ART DIRECTORS GUILD GALLERY 800 (ADG, IATSE Local 800) 
Opening Reception - 
SATURDAY, AUGUST 25, 2018 
| 5:00 – 8:00 PM
Exhibit will run through AUG 25 - NOV 03 2018
GALLERY 800 at the Historic Lankershim Arts Center
5108 Lankershim Blvd., North Hollywood, CA
---
Gallery 800, located in the heart of the NoHo Arts District, showcases Guild members' personal art in a series of shows throughout the year.
These talented artists are leading art department professionals, who, through a combination of observation, passion and imagination, bring the writer's words and the director's vision to life in television and film. When not working as integral creative members of the entertainment community, they contribute to the fine art scene with their personal artwork. Since Gallery 800 opened its doors in March 2009, more than 600 ADG members have shown their artwork in the ongoing exhibitions.
Representing Gallery 800 are Curator Abra Brayman and ADG Awards and Events Manager Debbie Patton. Gallery 800 (located at 5108 Lankershim Blvd. at the Historic Lankershim Arts Center in the heart of North Hollywood) is open Thursday - Friday: 12:00 - 8:00 pm Saturday 2:00 - 8:00 pm Sundays 12:00 - 6:00pm. For questions about the gallery or artwork, contact (818) 763-8052 or 
gallery800@gmail.com
.  New Exhibit calendar will be available soon!
ABOUT THE ART DIRECTORS GUILD:
The Art Directors Guild (IATSE Local 800) represents 2,500 members who work throughout the United States, Canada and the rest of the world in film, television and theater as Production Designers, Art Directors, Assistant Art Directors Scenic, Title and Graphic Artists Illustrators and Matte Artists Set Designers and Model Makers and Previs Artists. Established in 1937, the ADG's ongoing activities include a Film Society, an annual Awards Banquet, a creative/technology community (5D: The Future of Immersive Design), a bimonthly craft magazine (Perspective) and extensive technology-training programs, figure drawing and other creative workshops and year-round Gallery 800 art exhibitions. The Guild's Online Directory/Website Resource is at 
www.adg.org
. Connect with the Art Directors Guild and #Gallery800 on Facebook, Twitter and Instagram.